After hosting a few what have we learned?
Entrepreneurial insights from around the world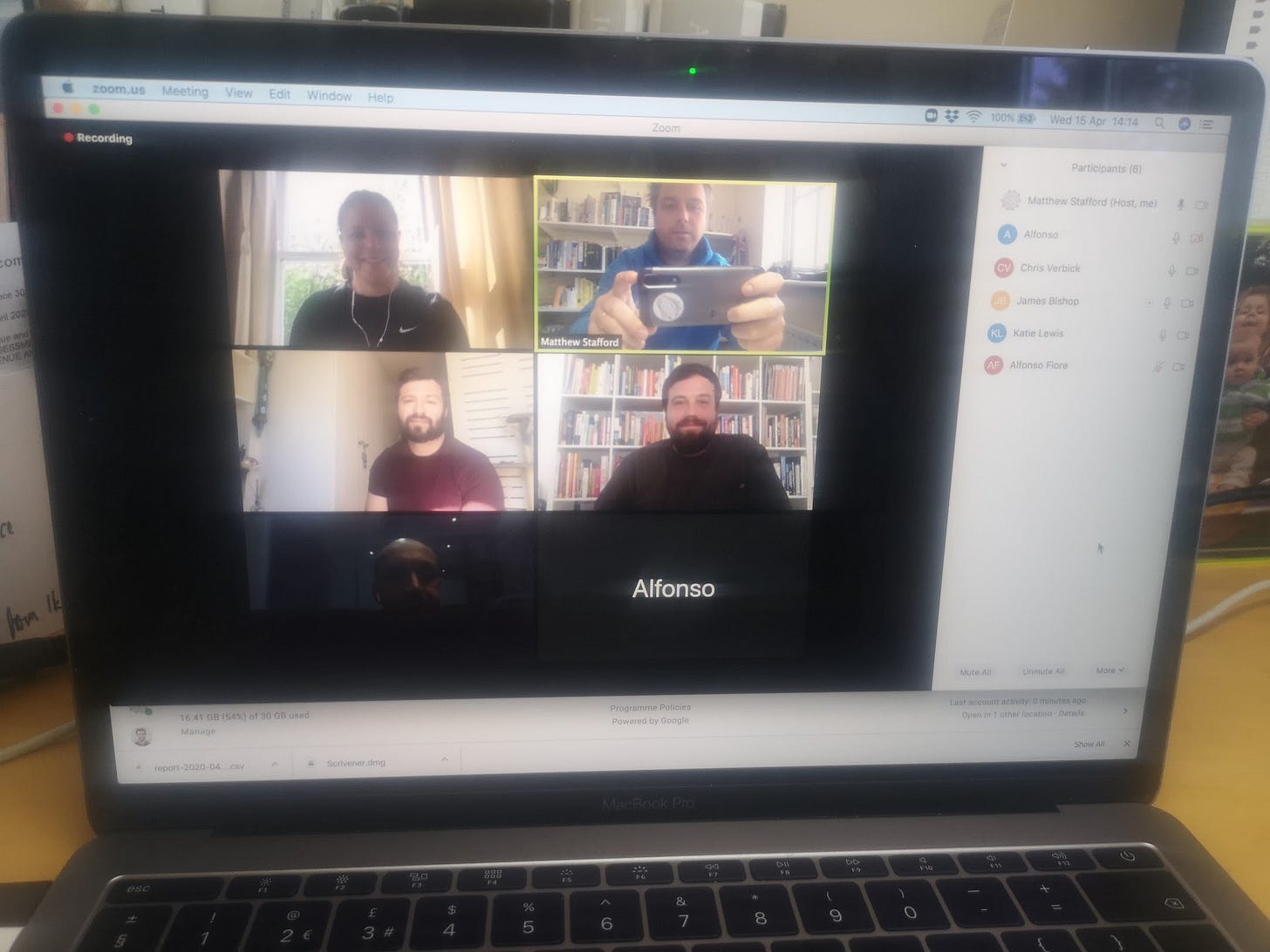 Your success still requires the aid of others
The first meal with 9others was on 8th December 2011. From the start the meals have been about bringing people together to have a conversation. Attendees come along, share a challenge and help each other out. Over 4,000 people have experienced a meal with 9others in 47 cities around the world.
Since mid-March we (Katie and Matthew) have been hosting meals with 9others online. Fewer people (around 5 or 6 attendees plus Katie and Matthew), same format: Your success requires the aid of others.
After hosting a few what have we learned?
It's not all about Covid-19. The challenges shared could have been from any other meal, such as:

"How can we more effectively communicate our differentiation?"

"Is there a better way to prioritise product features?",

"How can I push myself to the next level?"

"Can company culture really change?"

The solutions come thick and fast, but so do challenges back to those challenges:

"Have you confronted your colleagues with these concerns?"

"What would you do if you didn't need the money?"

"We all cry in the shower and feel poor - we're entrepreneurs, what did you expect?"

The online events are 2 hours long and have 5 attendees plus Katie and Matthew. This allows us to go deeper into each challenge, ask more questions and give more advice and support.
With online meals with 9others we also get to hear insights from overseas. At the most recent 9others we had someone from Singapore who works in the airline industry and someone from Sardinia who works in IoT join us. Asking those attendees questions such as, "What are you beginning to notice that you didn't expect?" and "Do you want to go back to the life you had? Why? Why not?" allows us to gain incredible anecdotal insights into what's happening in other parts of the world.
I hope you'll join us at future meals. If you're willing to come along, share a challenge and help the others then in doing this you get to come to dinner where other people will do the same. And to say thanks to you and to the terrific healthcare workers we have made, and will make more, donations to Meals for the NHS.
If you sign up to our Substack, here, then you'll see the upcoming meals and be notified when we share more. I hope you can join us, wherever you are in the world.